167 children from the Ohrid region will be able to receive a 3-month training in coding and develop digital skills required for 21st-century professions, thanks to the newly established partnerships by Macedonia2025 and Kasarna Hub Ohrid. As a result, these children will be empowered to become the next generation of leaders in their respective fields.
Kasarna Hub Ohrid is a technology hub aimed at advancing technological progress in Ohrid and North Macedonia as a whole. Previously, there were no opportunities for the youth in the Ohrid area to learn or enhance their digital skills. However, Kasarna Hub decided to offer programming courses for children free of charge. Initially, they planned to train only 30 children with the budget they had secured. To their pleasant surprise, 167 children signed up on the first day of the open call, and another 70 signed up in the following days and are currently on the reserve list. These children come from all elementary schools in Ohrid, as well as elementary schools in Debrca and the lakeside villages.
Macedonia2025 believes that this project proposal is highly in line with our cause and campaign's goal to support the next digitally skilled nation. With over 160 children to be trained through this project, we believe that they will make a significant impact in the area.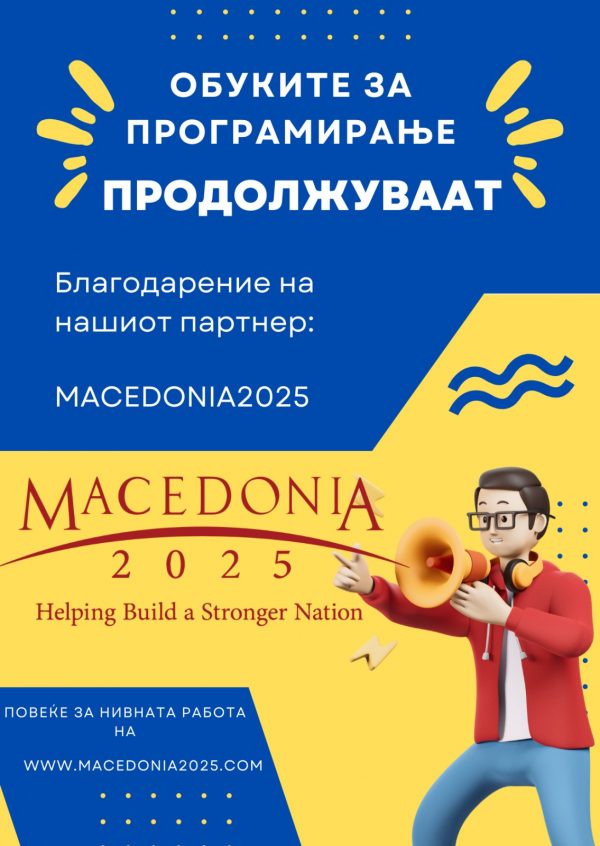 Information about the courses
The overall goal of the course is to contribute to building a new generation of IT professionals at a young age while teaching them to properly use the digital tools at their fingertips. On the one hand, they will be prepared for a well-paid job, on the other, through programming, they will learn to solve problems, be creative, research, and collaborate.
Target group: 9-15 years
Programming courses (Scratch, Python, C++, MS Office – basic and advanced level, WordPress and Google Apps) The courses last 3 months, twice a week for 90 minutes.
The initiative is made possible through the project Roads Not Taken: Municipality of Ohrid Going Green, Smart, Innovative (OHRID GO), funded by the European Union. The project is implemented by the Municipality of Ohrid and Stellar Solutions Skopje.
More information about Kasarna Hub
Located in the beautiful, but neglected area of the old military barracks in Ohrid, they want to re-invent this part of the city by supporting and working with startups, scale-ups, corporations, the local government and the wider ecosystem to drive emerging tech innovation for positive impact. Kasarna Hub is established and operated as part of the project Ohrid Go, co-financed by the European Union, and implemented by the Municipality of Ohrid and Stellar Solutions. Learn more http://kasarna.net/
We are wishing all young participants success in mastering the courses.